There was Al Sanders, and then there was … Al Sanders.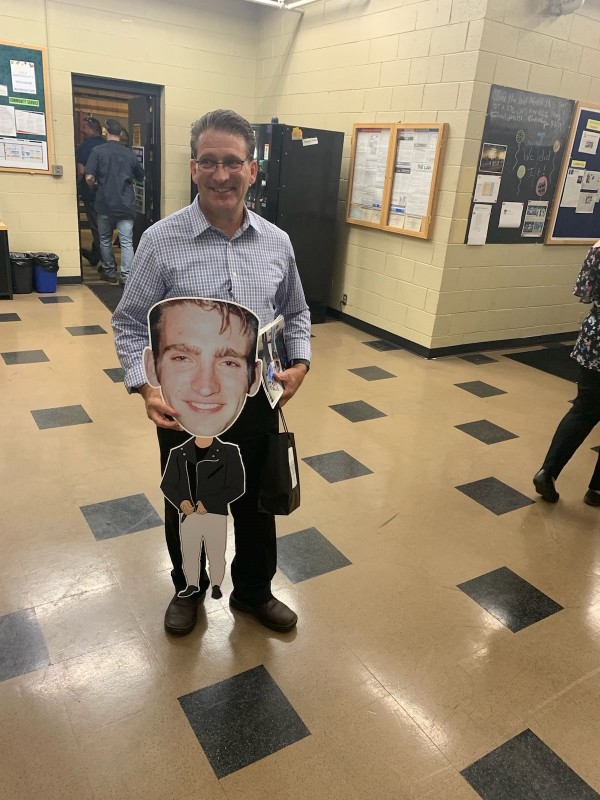 The second Al was quite a bit shorter, though. More hair. And less gray.

OK, he wasn't the real Al Sanders. Just someone who looked an awful lot like him 30 years ago.


As you can see by the photos, the second Al was a cardboard creation … of the real Al. He made a surprise appearance at a very real celebration.

Al, our Vice-President of Sales, recently marked his 30th anniversary with Max Weiss Company. We shut down operations for a short time to recognize the achievement … which included the mini-me featuring Al's smiling face from long ago.


Al's career reads like a proverbial American success story. After graduating from Greenfield (Wis.) High School, he started at Max Weiss Company as a fresh-faced, 20-year-old production worker. Over the many years ahead, he learned our shop, and all its metal fabrication and beam bending processes, like the back of his hand.


"Max Weiss – the Max Weiss – was still here when I started," Al recalls. "He had a physical presence. A big, broad-shouldered German guy. He liked to show appreciation, and would personally compliment your work. His personal validation meant a lot. It made me want to learn more and more."


The shop veterans encouraged Al to become a student of the industry. Ask lots of questions, they said. Learn everything you can about metal rolling and plate bending.


"I look back fondly on those days," Al says. "Those guys were really great to me. I wouldn't be where I am today without them."


Al took their advice to heart. He earned a degree in structural steel fabrication from Milwaukee Area Technical College. He achieved journeyman status.


The promotions followed: department lead, quality manager, plant engineer, operations manager, sales and estimating manager … and finally his VP role in 2017.


Al sees his role as providing leadership and vision for the company's sales and marketing functions. He's active in sales processes, providing quotes and interacting with customers and team members. In a project-based business, the metaphorical pipeline has to stay full.


In his early days, Al loved working with his hands to create precisely fabricated products.


"What revs me up these days is the game of business," he says. "I enjoy the hunt and the negotiations. I pay much more attention to the numbers. We use our KPIs (key performance indicators) to help us make decisions. The data and an excellent culture set us up for future success."


Al and Kelley, his wife of 30 years, have four adult children. All finished college, are gainfully employed and, as Al wryly notes, "off my payroll." He and Kelley welcomed their first grandchild, Bryan Alan Sanders, in August.


Al has been active in the American Welding Society, and American Institute of Steel Construction, for many years. He also serves on the board of Villa St. Francis, an assisted living facility on Milwaukee's south side.


In his free time? "Kelley and I enjoy traveling," Al says. "We will literally go anywhere. It's a big world. I like attending sporting events, and squeeze in some fishing and hunting when time permits."


Thirty years is a long time. To listen to Al, it went pretty fast. Come to think of it, he and his mini-me didn't look so different, after all.