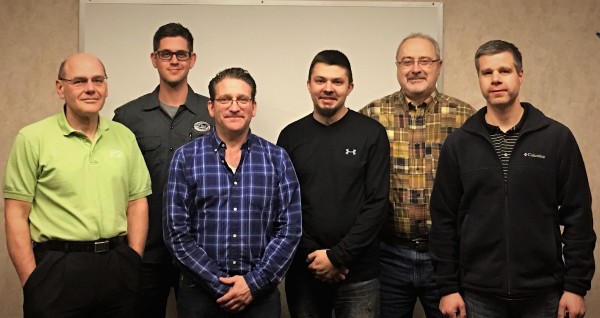 If you need to track down a few of us from Max Weiss Company this week, you might have to go all the way to San Antonio.
At the Henry B. Gonzalez Convention Center. In booth 6141, to be specific.
For the 15th year, a Max Weiss delegation is attending the March 22-24 North American Steel Construction Conference, the biggest annual confab of the American Institute of Steel Construction. How big? More than 4,500 attendees are expected.
This is about more than escaping Wisconsin in March. If you work in any sphere of the steel construction industry, NASCC is THE place to be. To quote the NASCC web site, "The Steel Conference offers more than 100 technical sessions and is the premier educational event for structural engineers, fabricators, erectors and detailers."
Even more, it's a chance to connect with others in the steel industry, and reinforce relationships old and new alike.
We're sending Paul Schulz, Al Sanders, Dan Bertzyk, Dave Nader, Dave Gregg and Max Furstenau to San Antonio. They'll take turns staffing our trade show booth, networking with peers, and attending the many educational sessions offered daily. You can follow their updates on our company LinkedIn and Facebook pages.
Al will be especially busy. As Chair of the AISC Bender/Roller Committee, he'll be overseeing the group's bi-annual spring meeting at the conference.
Max Weiss Company is exhibiting at the conference trade show for the eighth year. You meet all sorts of interesting people there. Some are regulars we see every year. Others are new faces – to us, at least - who want to learn more about our metal bending and fabricating services.
Best of all, though, are the customers we get to talk with in person. Sometimes, this is an annual event that occurs only at NASCC. We look forward to these conversations, which are a chance to strengthen the most important relationships we have.
The NASCC is a whirlwind of classes, networking … and just enjoying being among thousands of others who share a passion for steel construction, and all that goes into it. If you're at the conference, you probably feel the same. Stop by our booth, and tell us about it.
If not, contact one of our six travelers soon and ask about NASCC. They'll be glad to share some stories. To put a twist on a popular saying: What happens in San Antonio … doesn't have to stay in San Antonio.