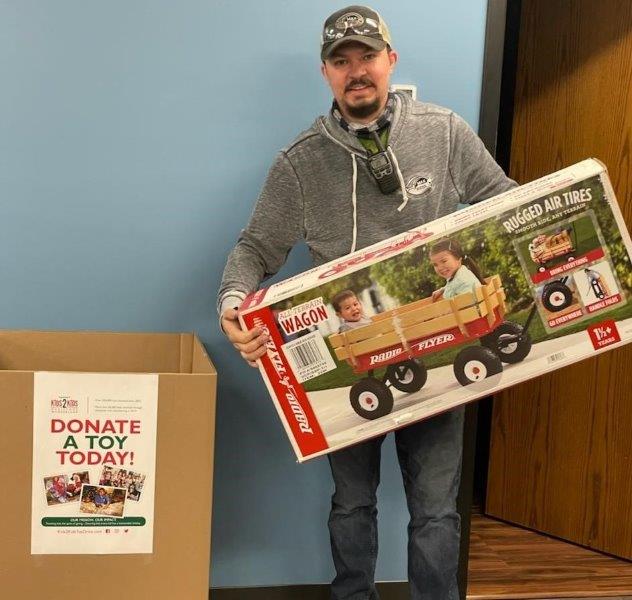 Just as 2020 has had a strange, interrupted quality for tens of millions of people, the holiday season will pose new challenges for many.


Take hospitality industry workers, for example. With so many on long layoffs or working sharply reduced hours, what will their kids find under the Christmas tree?

Many others face uncertainty as the holidays approach … which leaves us a choice: Do we want to play Scrooge, or Santa?

The answer is obvious. The final months of 2020 will hopefully be a tremendous demonstration of the "holiday spirit" by many, many people and organizations. Why? Because the needs this year are beyond "many."

We do an annual holiday food drive at Max Weiss Company. Still, the thought nagged: Our company and employees had a successful 2020, when many others struggled.

How could we do more?

An invitation from our longtime metal bending and metal fabrication customer, Kapco Metal Stamping, provided the answer.

Max Weiss Company is thrilled to be a sponsor of the Kapco Kids2Kids Christmas Toy Drive which, in the past 14 years, has contributed more than 225,000 new toys to local charities serving low-income and disadvantaged children. It's the largest annual toy drive in Wisconsin.
In addition to a financial contribution, we set up a collection box at our plant for our team to donate toys. We hope that our employees, many of whom have kids of their own, will think about those going without this season and buy a few extra gifts.

Even better, especially in a time when kids might have to "social distance" from Santa, the Kapco initiative includes the amazing Kids2Kids Christmas Wonderland.
Described as "Wisconsin's Ultimate Drive-Thru Holiday Experience," the extravaganza includes "millions of lights, three mesmerizing light tunnels, hundreds of inflatables and holiday décor pieces, lighted water features, a live nativity scene, Santa's Workshop with live reindeer and a bustling Christmas Village." Whew!

All guests to the Christmas Wonderland are encouraged to bring a new unwrapped toy for the toy drive. The event runs Nov. 27 to Dec. 30. If you're able to attend, watch for a street or storefront named after Max Weiss Company – a neat perk of sponsorship!

If the holiday spirit really strikes you, the Christmas Wonderland needs volunteers to keep the show running. Who knows – you might get to harness a reindeer!
There's still a full month left in 2020. It's plenty of time to make someone else's holiday special, and fill them with hope for 2021. Come join us – it's a great feeling!