We're getting ready to dig in – literally – for a massive new arrival. Given its size, strength, and capabilities, you might call it the Incredible Hulk of metal bending equipment (to use a comic book analogy).
Max Weiss Company will take delivery of an immense DAVI Angle Roll MCP in early December, greatly expanding our production resources and ability to meet ever-more-specific orders and customer needs.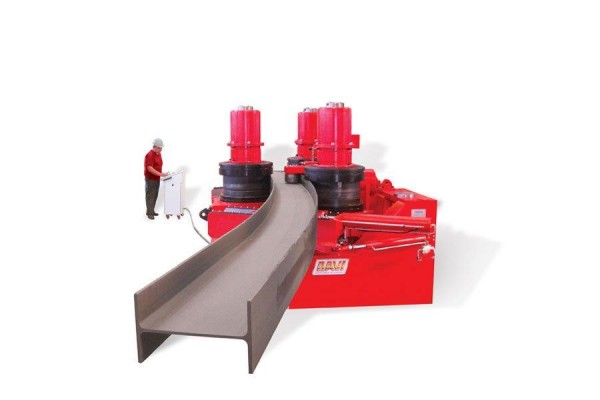 Our customers asked … and we responded. This isn't a decision made lightly – in fact, there's nothing light about this monstrous, metal-bending behemoth with full-blown CNC capabilities.
The DAVI Angle Roll MCP weighs 90,000 pounds. You read that right: 45 tons. This isn't the type of equipment you put in a closet and roll out when needed.
Ready? Max Weiss Company will dig a 20' x 20' x 7' deep machinery pit, inside our shop, for this new acquisition. Fully installed, the DAVI Angle Roll MCP will extend 6 feet above the shop floor. Massive? Might be an understatement.
Most importantly: What does this mean for you?
Let's quote directly from the DAVI web site: "The DAVI three roll MCP section roll was designed to meet the requirements of very demanding customers, who need to bend large and extra-large dimension parts with very strict tolerances."
This rolling machine substantially broadens the metal bending capacities of Max Weiss Company. The complex technology in its CNC controls will allow us to respond to the increased complexities that you, our customers, bring to us.
The new DAVI unit can be used for any project requiring curved metal. Its capacity for different metal types – flat, square, T-section, angle, hollow, S-beam, WF-beam, channel, tube, and more – is unparalleled. The finished components might be found in a sports stadium, a ship, a bridge, a sculpture, the interior or exterior of buildings … virtually anywhere.
Our production team will undergo training shortly after installation. The DAVI Angle Roll MCP should be operational by mid-December.
As you can imagine, we're tremendously excited about this new arrival. It's not every day that you welcome a co-worker that weighs 45 tons, and requires its own pit in the middle of the shop. It's a big deal, literally and figuratively.
Best of all, we'll be able to keep meeting customers' ever-evolving requirements for metal bending with ultra-precise radii, dimensions and thicknesses. Unlike the comics, this is as real as it gets.