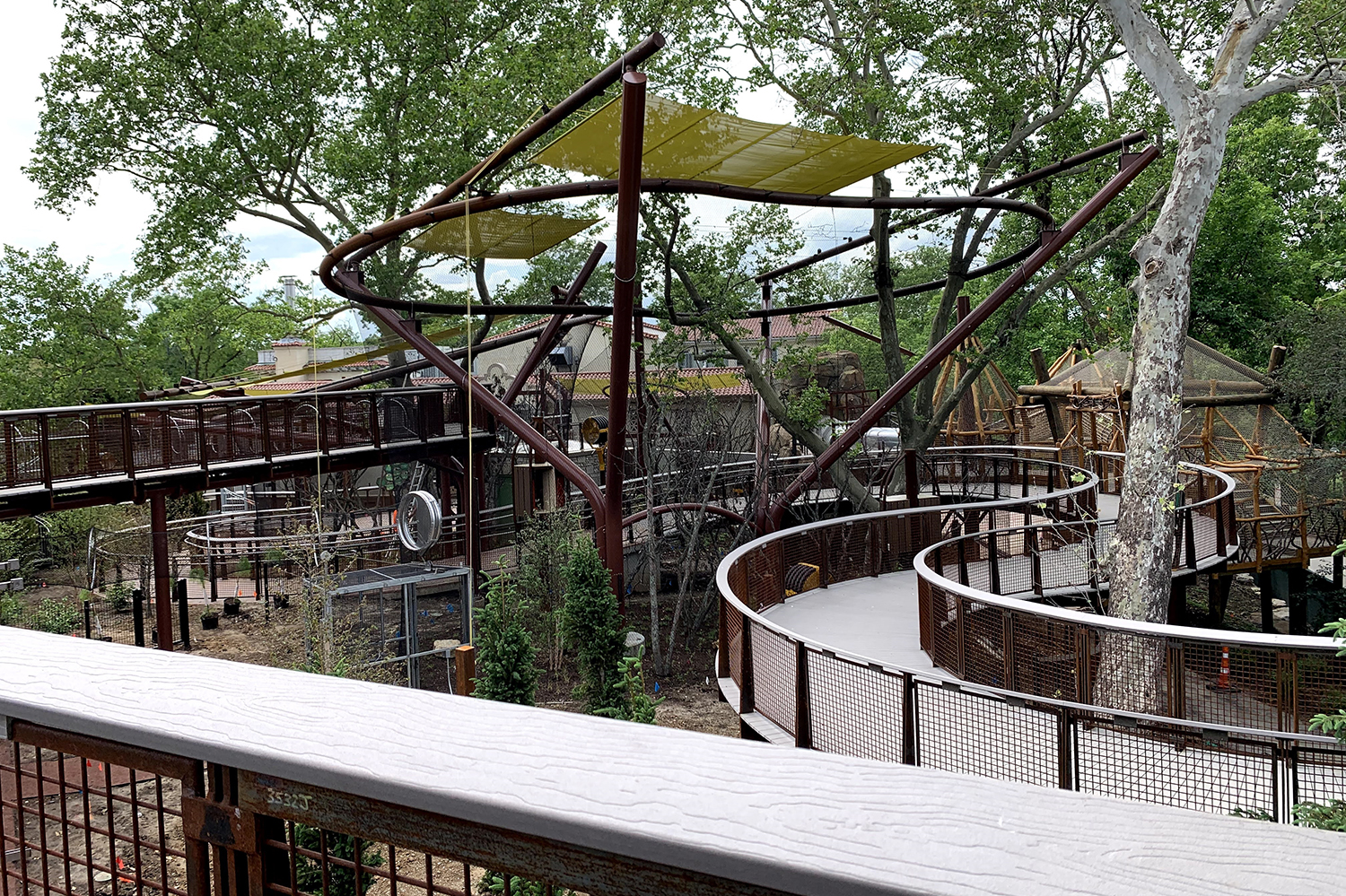 Ever been honored for "monkeying around?" We're proud to say we have!
The American Institute of Steel Construction (AISC) recently recognized Max Weiss Company for its role in creating a new primate habitat at the St. Louis Zoo. The project, which involved a complex array of winding steel paths and curved piping, earned a Merit Award in AISC's 2023 Ideas2 competition!


We were honored as Bender/Roller on the project, partnering with fabricator The Gateway Company of Missouri, LLC. If this project sounds familiar, it's likely because we detailed the work in a post two years ago – click here to refresh your memory!

The Michael and Quirsis Riney Primate Canopy Trails are a 35,000-square-foot display with eight outdoor homes for monkeys and lemurs. Its design allows visitors to experience a forest canopy environment. The animals enjoy a habitat with fresh air and sunlight.

Our metal rolling and metal forming masters shaped more than 400 pieces for the project. Many were for the snakelike pedestrian walkways. Much of the work was pipe bending and bar bending for curved poles that hold netting, or the pathways' railings. Other pieces are largely aesthetic, forming a beautiful mosaic that gracefully arcs above the exhibit.

The hundreds of pieces, in so many shapes and sizes, created a jigsaw puzzle-like task to construct the immense finished product. A contest judge observed the same, noting "The challenge on this project was the need to have things fit precisely at the locations where they were intended to be - that requires a lot of coordination between the fabricator, the contractor, and the detailer, and a lot of unusual layout techniques."

The St. Louis Zoo is one of the nation's oldest free zoos. More than 3 million visit annually. The zoo is actively engaged in survival plans for many endangered species.
Primates in peril include all the monkeys and lemurs that enjoy the Michael and Quirsis Riney Primate Canopy Trails. The exhibit allows them to climb trees and structures, enhancing their physical and mental health. Its design allows up to 70 different habitat configurations, further enriching the animals' lives.

A description of the AISC award offers this take: "The project team behind the Michael and Quirsis Riney Primate Canopy Trails weren't monkeying around when it came to seamlessly interweaving steel paths and climbing structures with live trees and other natural elements to give visitors a treetop experience - but the real star of the show is uncoated weathering steel, which can gracefully withstand the seasonal changes of the Midwest."

Needless to say, we're tremendously honored by the award. Our metal bending masters spent nearly six months shaping pipe, bars and channel steel. To be recognized as part of the nation's best projects is no small feat. If this comprises monkey business, we're all in.