We love doing work for new stadiums … even if they aren't right in our own backyard.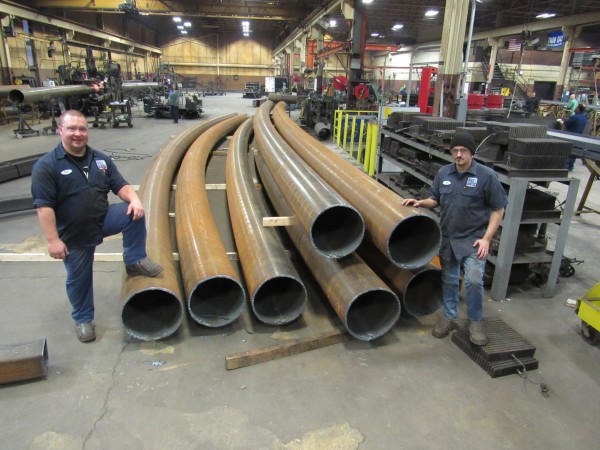 The latest project is a real kick. Our friends at Merrill Steel asked us to help fabricate steel for a new soccer stadium for Minnesota United FC in St. Paul, Minn.


Allianz Field, opening in 2019, will seat 19,400. The $150 million open-air venue uses a polymer mesh skin for its canopy and covering, installed over a structural steel rib cage.


We're bending the ribs – 228 of them, to be exact.


The pipe rolling work is being done in phases over eight weeks. The material, Hollow Section Round 18-inch O.D. STD Pipe A500 Gr. C, is formed using a proprietary process of incremental bending.


The distortion-free product will meet Architecturally Exposed Structural Steel (AESS) standards, an absolute "must-do" for a project of this size and prominence.


Challenges? Oh, plenty of them. Some parts were rolled down to a 104-foot centerline radius. The pieces ranged from 45 feet, to greater than 65 feet.

We'll get it done. It's not our first pipe forming rodeo.


Why are stadium projects fun? People are passionate about sports. The fans attending matches at Allianz Field will yell like crazy. They'll stop their feet. They'll let off steam. In other words, they'll have fun.


And, it's great to know that our pipe bending is part of it.


Max Weiss Company has contributed construction metal forming and steel rolling for many new stadiums and arenas: Little Caesars Arena, home of the Detroit Red Wings and Detroit Pistons. AT&T Stadium, where the Dallas Cowboys play.


The previously-referenced new Milwaukee Bucks arena (i.e., the one in our backyard). Helfaer Field at Miller Park (another in our backyard).


Southwest University Park in El Paso, Texas, which won an award from the American Institute of Steel Construction. A new Boston College athletics field house, adjacent to the school's famed Alumni Field football stadium.


When it comes to structural steel bending service for arenas and stadiums, we at Max Weiss Company have one answer: Game on!