What comes to mind when you think of a "motorcycle club?"
For many, it's probably images of tattooed troublemakers, Sturgis shenanigans and, to quote ZZ Top, "Beer Drinkers and Hell Raisers."
The 2019 reality is much different. Just ask our President, Paul Schulz.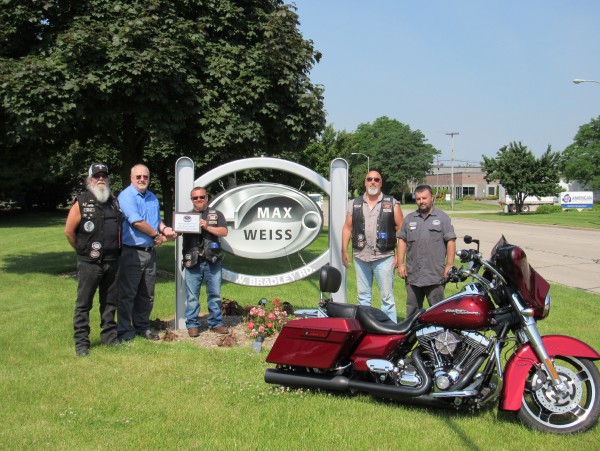 Paul doesn't own a Harley-Davidson, or any motorcycle for that matter (he does have a moped). So, when preparing to meet with representatives of a local motorcycle club recently, he wasn't sure what to expect.
His chat with the organization's president and treasurer went swimmingly. It might have something to do with their shared backgrounds.
Paul's a finance guy. The motorcyclists were – are you ready? – accountants.
Their meeting wasn't about ledgers or spreadsheets. They talked about helping kids. Specifically, kids who had their innocence ripped away by physical, mental or sexual abuse.
When the conversation ended, Paul committed a $1,000 donation from Max Weiss Company to the Hawg City Chapter of Guardians of the Children. The motorcyclists' organization – one of dozens across the U.S. – holds monthly events for local children who have suffered abuse.
The genesis of the support – just like our backing the Heart & Stroke Walk – is an employee's passion.
Maurice Santoro-Catlado, a machine operator in our production department, has been riding motorcycles for 20 years. His current bike is a 2013 Harley Iron. His fellow motorcyclists call him by his road name, "Vito."
Maurice became involved with Guardians of the Children by a friend's invitation. He saw it as an ideal way to partner with his fellow bikers to give back to the community.
"There's a lot of abuse out there that goes unnoticed or unreported," he said. "I saw this as a great opportunity to help these kids."
The Hawg City Chapter of Guardians of the Children works with local authorities to identify children in need. The group takes the kids' entire families on outings – camping, fishing, cookouts, snow tubing, a bounce house. The "where" is less important than the "who."
"The kids tend to be shy and withdrawn at their first event," Maurice said. "By the second or third time, they're running up and giving you hugs. It's kind of giving them back their childhood."
The Hawg City Chapter does a lot of fund-raising to cover its activities. We at Max Weiss Company are excited to support them. Most recently, we distributed two rounds of raffle tickets - $400 worth each time – to our employees, offering a chance to win some awesome prizes.
"It's great to know that, when you're passionate about something, the company is behind you and willing to support your cause," Maurice said.
It's another way we're expanding our community outreach. The people who drive by our plant every day might not know about metal fabrication, sheet metal forming, beam bending and metal rolling. They might know a kid helped by Guardians of the Children, though … or a relative who has heart disease … or perhaps someone who's a fan of the Lakeshore Chinooks.
Paul's meeting with the Guardians of the Children representatives was a reminder that old stereotypes are often just … old.
By contrast, reaching out to those around us, and lending a helping hand, is always new and refreshing. We're thankful for the opportunities … and grateful for employees who take the lead to make it happen.