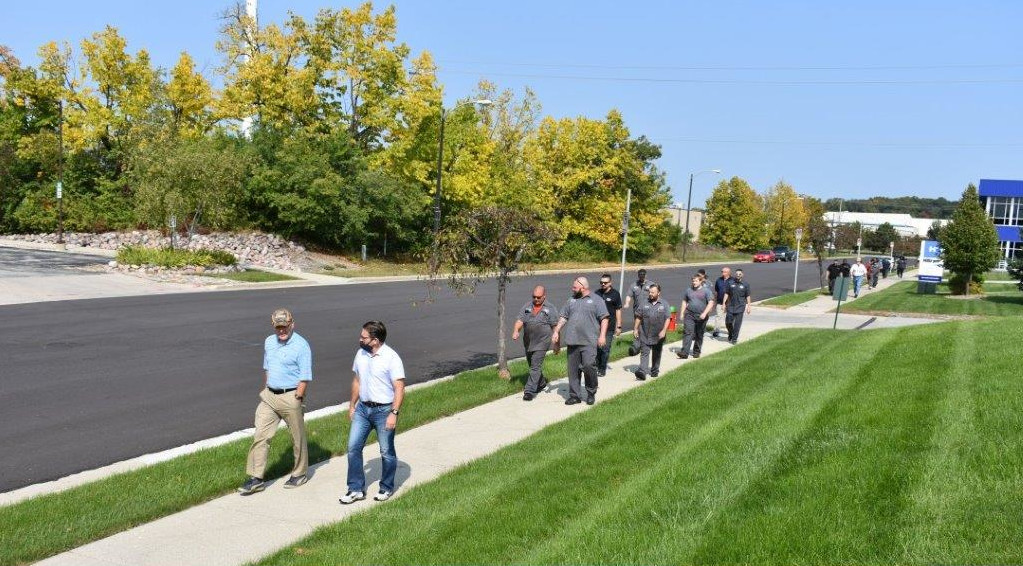 The coronavirus pandemic has forced cancellation of events everywhere. Yet, we shouldn't let it stop us from helping others in our communities.
Such was our mindset recently as we walked the streets near our Milwaukee metal fabrication plant to participate in the 2020 SE Wisconsin Heart & Stroke Walk Digital Experience. Nearly 100 local businesses and organizations joined the virtual event, proving that even a deadly virus can't stop people of good will.
It was a beautiful day for a walk. Getting out of the "office" together is a good bonding experience. The temporary red hair of our company President, Paul Schulz, reflected the mood.


We first participated in the annual Heart & Stroke Walk in 2019. The leader and "coach" was Kate Klister, our accounting and human resources guru, whose mother is an 11-year stroke survivor.
Like Kate, many of our employees know family and friends affected by heart attacks and strokes. Heart disease, the #1 killer in America, is personal for many. Taking a break from work for the Heart & Stroke Walk was a step, literally and figuratively, to save others.
The afternoon stroll wasn't just symbolic, either. Team Max Weiss raised more than $2,500 for the American Heart Association. The AHA has helped greatly reduce the number of people killed by heart attacks and strokes. All considered it time and money well invested.
Like our participation in Guardians of the Children, we got involved in the Heart & Stroke Walk due to an employee's passion. Our workers are our greatest asset. If they're actively supporting a cause, we'll consider joining them. Good people beget good causes.
COVID-19 has thrown a monkey wrench into everyone's lives. We can be resourceful, though, so it doesn't "monkey" with doing what's important – and right.