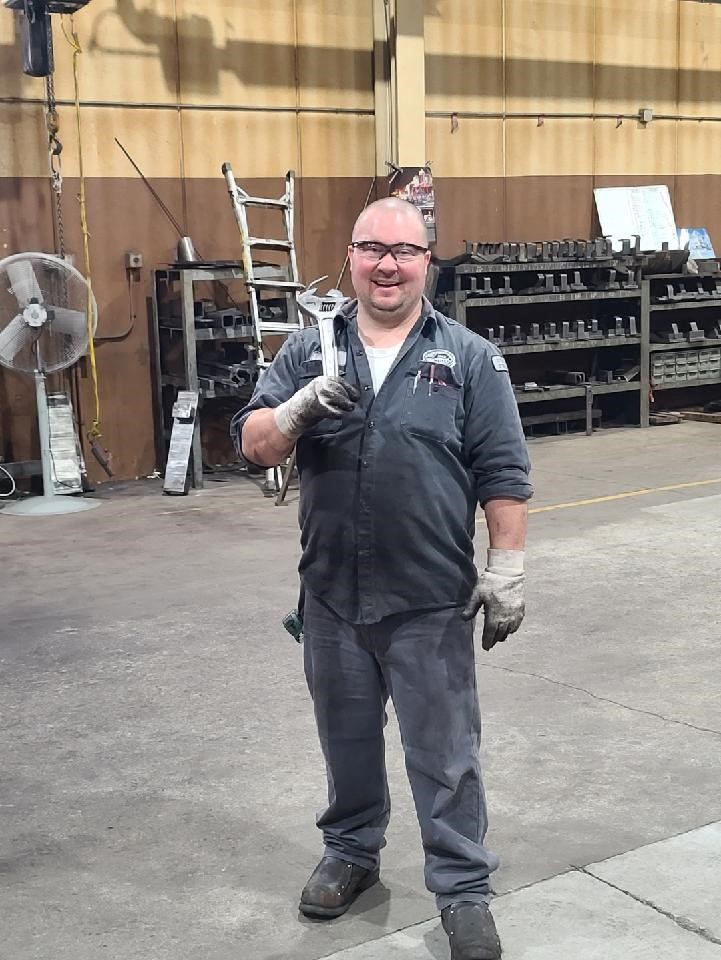 "And be a simple kind of man, oh be something you love and understand." – Lynyrd Skynyrd


The license plate of Phil Steinke's dark blue Dodge Ram 1500 says it all: "BNDSTL."
Simple, and to the point.
Phil bends steel, all right. He also rolls, and saw cuts, and drills holes in it. His passion for forming and shaping metal is as strong as the materials he works with.
Phil recently celebrated his 15-year work anniversary with Max Weiss Company. As our longest-tenured production worker, he relishes every day's opportunities for metal bending, metal rolling and metal forming.


The senior machine operator enjoys a role that brings him pride of ownership. Phil's talents yield tangible results, such as the curved roof pieces on Fiserv Forum in downtown Milwaukee – one of which he personally signed during the arena's construction.
"I like that stuff, getting dirty and knowing you make a difference," he says.
Phil's good at what he does – very good. He'll tell you he was destined for this type of work. Lay out the project, the specs, the expectations. He'll do his thing.
"I always liked metals," he explains. "I don't know why. I just adhered to it."
Growing up in Greenfield, a Milwaukee suburb, Phil earned the rank of Eagle Scout by replacing the interlocking latches on more than 600 chairs at his church. He held his first job there, cutting grass, shoveling snow, taking out garbage and maintaining the building.
He got his first taste of working with metal – specifically, sheet metal - after graduating from Whitnall High School.  Phil fabricated and hung ductwork for two years, learning welding along the way.
He shifted into drywalling, completing an apprenticeship as a drywall finisher. After four years putting up walls, a neighbor's relative who worked at Max Weiss Company mentioned that his employer "could use a guy like him."


| | | |
| --- | --- | --- |
| | | |
The rest is history.
One of Phil's first tasks at Max Weiss Company – no lie – was drywalling new offices off the shop floor. He moved into rolling, and honed his metal fabrication skills in torch cutting, saw cutting and welding.


Phil found his forte in forming. He relishes the prospect of overbending a piece, then bending it back to specified radius. The tighter, the better. It never gets old.
"I like that it's always different," he says. "It makes you think. I like to know that I'm building America."
Phil's passion is contagious. Just listen to Paul Schulz, our company President.
"Phil is one of those guys who lights up a room," he says. "He's the guy in the middle making things happen. He has a thirst for knowledge and loves what he does, bending and forming steel. If you want additional proof, just look at his license plate."
At his roots, Phil's an uncomplicated guy. Ice fishing whenever possible during winter. Barbecuing. Attending University of Wisconsin football games with his wife and son.


"I am a simple man," he says. "I enjoy the small things."
The big things he builds, though, require complex talent. No one is born with it. Phil worked hard to refine his skills. He likes helping others on the shop floor. Above all, he enjoys the challenge of forming every piece of metal just right.
"I feel like I found my niche in life," he says.
As he's wont to do, Phil keeps it simple. Who says that life has to be complicated to be good?