Bending steel for stadiums and arenas is a big part of our business at Max Weiss Company.
We've taken our affinity for sports to a new venue: Sponsoring a baseball team!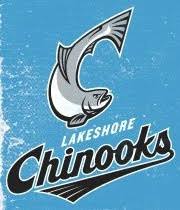 Max Weiss Company is proud to be a corporate 2018 sponsor for the Lakeshore Chinooks, a member of the 20-team Northwoods League. Its squads are scattered around five upper Midwest states.
The Northwoods League features top college players, who play a 72-game schedule between late May and mid-August. More than 100 are typically drafted by Major League Baseball every year.
The Chinooks play just a few miles north of our plant, in a stadium with great views of Lake Michigan. Beautifying the stadium (we believe) are two Max Weiss Company banners, one on each dugout.
Every home game, a public address announcement about Max Weiss Company enlivens the seventh-inning stretch.
Why the Chinooks? The team provides inexpensive, family-friendly entertainment. Players are unpaid, so are driven by passion for the game. It's fun to be part of a sports experience that southeast Wisconsin residents have embraced since the first pitch in 2012.
True, we're in the metal bending, rolling, forming and fabrication business. We're also in the business of supporting worthy community organizations. Even though stadiums we work on are often in other states, it's a great feeling to be part of one right in our backyard.