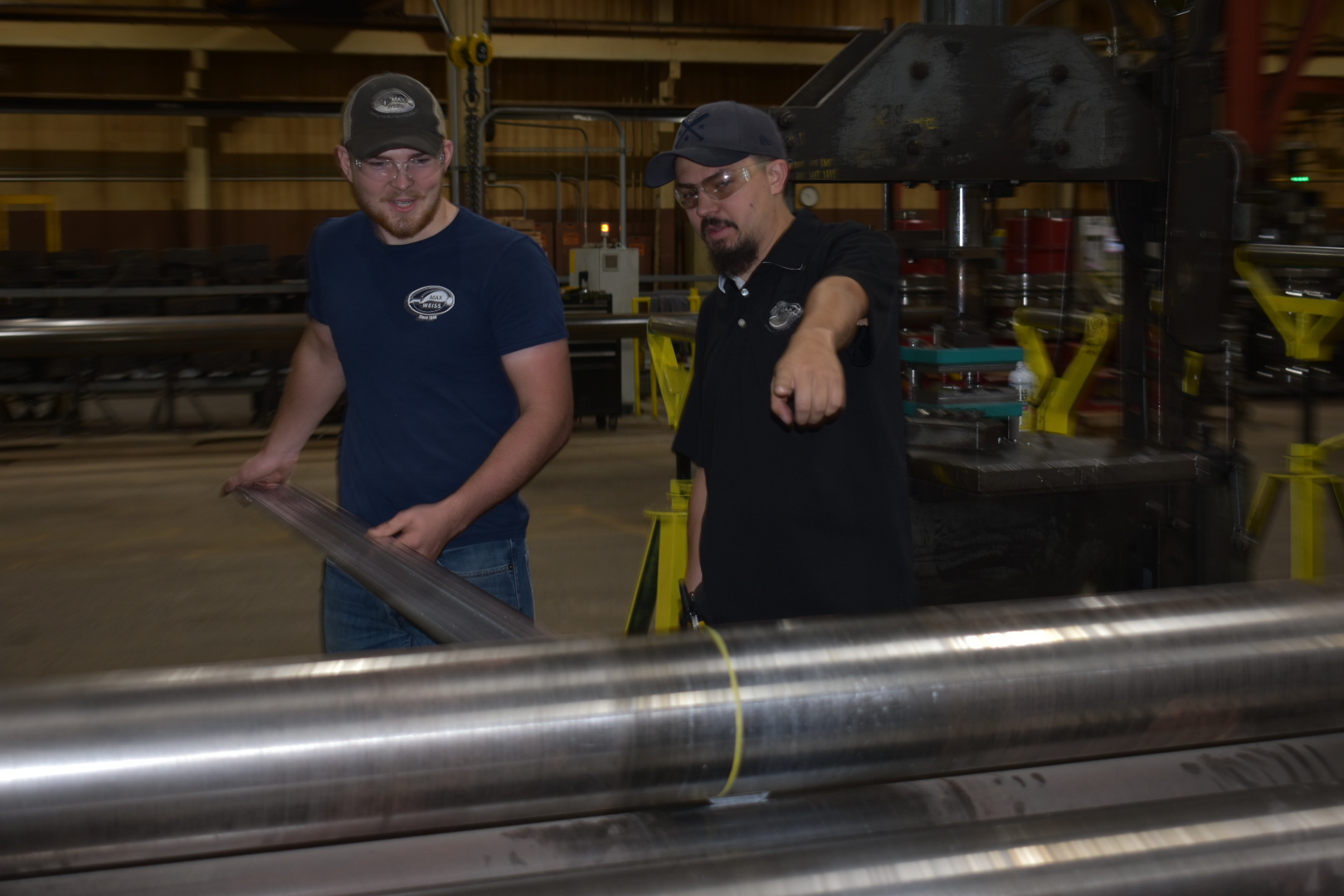 A familiar face returned to our shop this summer … and we're thrilled he's back!
Grayson Vandenbush, who served a 2019 summer internship after graduating high school, has worked full time since June. He's split time between the production floor and office, taking on responsibilities that far surpass his first go-round.
Grayson's done a lot here since June. So what was the most significant eye-opener?
"My biggest learning experience was being able to personally contact industry partners when quoting jobs," he said. "I was able to learn how a company like these functions, and what other companies expect from us."
In other words, he's absorbed the essence of a roller-bender operation: The most important task, every day, is meeting (and exceeding, when possible) the expectations of customers and strategic partners. It's an in-the-trenches education that can only be learned by "doing."
Grayson has been doing a lot of hands-on fabrication. He's welded carbon steel. Trimmed parts. Punched holes. Cut and drilled aluminum and stainless steel.
"It's always something I like," he said. "It's nice to get a drawing, and see the part being made, and contribute to that." He's done some steel bending and metal forming involving "small parts," he added.
Grayson even took an offsite welding certification test in June. He welded two plates, which undergo a two-part test: cutting a cross-section on the new single piece, and performing a bend test to see if the weld cracks. He's awaiting results.
Grayson returns to the Milwaukee School of Engineering in September for his sophomore year. He's studying mechanical engineering. The experience at Max Weiss Company is invaluable, he explained, because he works on products he might someday design. Understanding where problems can arise during fabrication is tremendous insight.
Grayson continues to display the ability and drive that Al Sanders recognized in 2019, when he interviewed the young man for a potential American Welding Society scholarship. He received the funding, one of several scholarships supporting his studies.
The two continued to partner during Grayson's freshman year. Working remotely from his dorm room in downtown Milwaukee, he helped Al with CAD drawings and job quoting. The experience carried over into this summer. Grayson worked independently at our plant, and even took on quoting entire jobs.
"This year was a little more in depth," he said. He plans to keep working for Max Weiss Company in the upcoming school year – a development that, once again, will benefit all involved.
"Grayson has a positive attitude and strong skill set," said Dave Gregg, our Director of Operations. "As a young intern, he contributes significantly every day. We look forward to continuing the program to benefit both the interns and our organization."
We're really glad to have Grayson back. Even better, he's excited to be back. It's like, to paraphrase a famous Humphrey Bogart line, the continuation of a beautiful friendship.